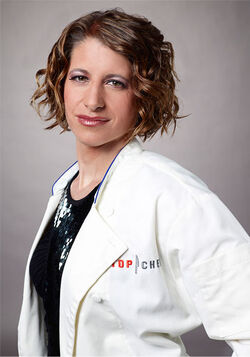 Laurine Wickett, 38, is a contestant from Top Chef Season 6. Wickett attended the Culinary Institute of America, and is the chef and owner of Left Coast Catering. Wickett knew she wanted to be a chef from the age of 12. She began her catering career by preparing dinners in the homes of leading Silicon Valley executives. Wickett's clients required no menu, and she would prepare meals from the freshest ingredients she could find each morning. Wickett's cooking style incorporates the many cultures that make up the Bay Area. Her favorite simple summer recipe is Grilled corn salad with summer beans and chanterelles.
Ad blocker interference detected!
Wikia is a free-to-use site that makes money from advertising. We have a modified experience for viewers using ad blockers

Wikia is not accessible if you've made further modifications. Remove the custom ad blocker rule(s) and the page will load as expected.