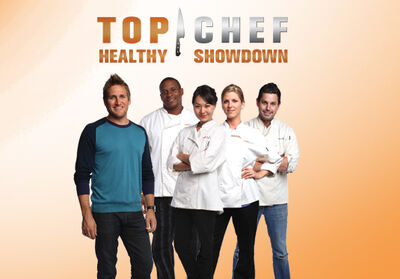 Top Chef: Healthy Showdown was a special internet series in 2011 sponsored by Healthy Choice. It featured former Top Chef contestants Sara Nguyen (Top Chef: Miami), Ryan Scott (Top Chef: Chicago), Casey Thompson (Top Chef: Miami, Top Chef: All-Stars), and Tre Wilcox (Top Chef: Miami, Top Chef: All-Stars) competing in a series of Quickfire Challenges to win $25,000 and inspire a Top Chef line of Healthy Choice entrées.
The Series was hosted by Curtis Stone, and Ryan Scott won the competition.
Ad blocker interference detected!
Wikia is a free-to-use site that makes money from advertising. We have a modified experience for viewers using ad blockers

Wikia is not accessible if you've made further modifications. Remove the custom ad blocker rule(s) and the page will load as expected.