<Top Chef Page --- Season 1>
---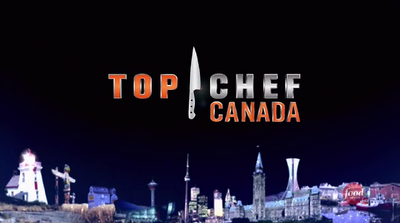 Top Chef Canada is a reality competition show. The first season premiered on April 11, 2011 on Food Network Canada.
The first season consisted of 13 episodes, with 16 contestants vying for a grand prize of $100,000 and a GE Monogram kitchen valued at $30,000. Contestants shopped at Loblaws in season one and McEwan in season two. Like the original Bravo series, each week the contestant chefs compete against each other in culinary challenges. Contestants are judged by a panel of professional chefs and other notables from the food and wine industry, with one or more contestants being eliminated each week. The Canadian edition uses the same graphics and music as the US version of Top Chef.
Season one of Top Chef Canada was one of Food Network Canada's most highly rated programs. The network renewed the program for a three additional season, until its cancellation in 2014 at the end of its fourth season.
Judges, guest judges, and special appearances
Edit
The host for the first season of the Canadian program was Thea Andrews. After giving birth to her second child, Andrews stepped down from the position. On November 15, 2011, actress Lisa Ray announced that she was named to host the program for season two and three.
The head judge (the position held by Tom Colicchio on the US version) is Mark McEwan, chef and owner of several restaurants in Toronto and host of the Food Network Canada program The Heat with Mark McEwan.McEwan returned as head judge for seasons two and three.
The "resident judge" (the position held by Gail Simmons in the US version) is Shereen Arazm, a Toronto native and owner of several Los Angeles, California-area restaurants.
Season 1 (2011)
Edit

Aired: April 11, 2011 - July 4, 2011
The winner of this season was Dale MacKay.
Season 2 (2012)
Edit
Aired: March 12, 2012 - May 28, 2012
The winner of this season was Carl Heinrich.
Season 3 (2013)
Edit

Aired: March 18, 2013 - June 10, 2013
The winner of this season was Matthew Stowe.
Season 4 (2014)
Edit
Aired: March 10, 2014 - May 12, 2014
The winner of this season was Rene Rodriguez.
External links
Edit