Season 1 >
---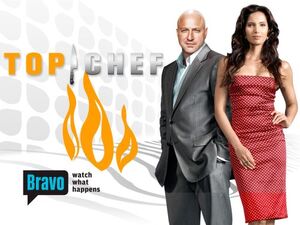 Top Chef is a reality series from Bravo that offers a glimpse into the competitive, high-pressure environment of the restaurant business.
Hosted by actress/model Padma Lakshmi, the series features aspiring chefs who compete for their shot at culinary stardom and the chance to earn the prestigious title of "Top Chef." Each episode holds two challenges for the chefs. The first is a quickfire test of their basic abilities; the second is a more involved elimination challenge designed to test the versatility and creativity of the chefs. Competitors take on unique culinary trials such as working with unusual and exotic foods or catering for a range of demanding clients. These challenges not only test their cooking skills, but also determine if they have the customer service, management and teamwork abilities required of a Top Chef. The competing chefs live and breathe the high-pressure lifestyle that comes with being a master chef and each week someone is asked to "pack up their knives" and go home.
Top Chef Winners
Edit
The Top Chef season winners, in season order:
Competitors are judged by an impressive foodie panel that began in Season 1 with Tom Colicchio, renowned culinary figure and chef/owner Craft Restaurants, and judges Gail Simmons of Food & Wine magazine and Toby Young, food critic and best-selling author of the book How to Lose Friends and Alienate People. Tom has remained the top judge throughout the series, while Gail and Toby have been replaced by various judges, including
The judges in the latest Season 8 Top Chef: All Stars, include renowned chef and culinary author Anthony Bourdain.
Guest Judges
Edit
Special Episodes
Edit
There have been three special, stand alone episodes throughout the series:
4 Star All Star (Season One vs. Season Two)
Top Chef Holiday Special
Top Chef Reunion Dinner
Spin-offs
Edit
The show has produced two spin-offs: Top Chef Masters, featuring established, award-winning chefs, and Top Chef Just Desserts, featuring pastry chefs.
Two more spin-offs are planned: Top Chef Junior, featuring contestants in their early teens, and Top Chef Canada, produced by Food Network (Canada).