< Season 1 --- Top Chef Main Page --- Season 3 >
---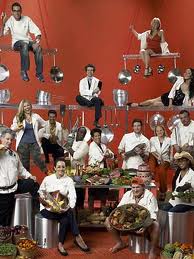 Top Chef Season 2 was filmed in Los Angeles, California. Padma Lakshmi took over hosting duties for Katie Lee Joel. There were several guest judges throughout the season, as in the first season. At the finale in Waikoloa Village, Hawaii, Ilan Hall battled Marcel Vigneron for the title of Top Chef. For the first time, a "Fan Favorite" was named based on online and phone voting and Sam Talbot (third place) was voted the Fan Favorite.
Suyai Steinhauer, 29 — Resides in: New York City, New York
Otto Borsich, 46 — Resides in: Las Vegas, Nevada
Emily Sprissler, 30 — Resides in: Las Vegas, Nevada
Marisa Churchill, 28 — Resides in: San Francisco, California
Josie Smith-Malave, 31 — Resides in: Brooklyn, New York
Carlos Fernandez, 36 — Resides in: Fort Lauderdale, Florida
Frank Terzoli, 39 — San Diego, California
Mia Gaines-Alt, 32 — Oakdale, California
Betty Fraser, 44 — Los Angeles, California
Michael Midgley, 28 — Stockton, California
Cliff Crooks, 28 — West Caldwell, New Jersey
Elia Aboumrad, 23 — Las Vegas, Nevada
Sam Talbot, 28 — New York, New York -- Fan Favorite
Marcel Vigneron, 26 — Las Vegas, Nevada -- Runner-up
Ilan Hall, 24 — New York City, New York -- Winner
Ad blocker interference detected!
Wikia is a free-to-use site that makes money from advertising. We have a modified experience for viewers using ad blockers

Wikia is not accessible if you've made further modifications. Remove the custom ad blocker rule(s) and the page will load as expected.