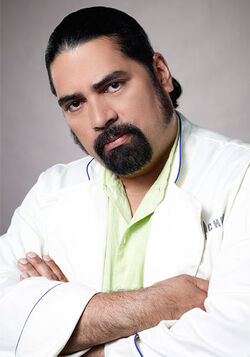 Hector Santiago, 41, is a contestant from Top Chef Season 6.
Santiago was born in San Juan, Puerto Rico, where he started his cooking career working under chef Gioanna Huyke at the El San Juan Hotel & Casino. He studied at the Culinary Institute of America, and his cuisine combines classic and avante garde cooking techniques with Latin American ingredients and inspirations.
Since opening his own restaurant, Pura Vida, in Atlanta, he has received many awards, including "Best Tapas or Small Plates" by numerous publications, being named a "Rising Star Chef" for Atlanta by StarChefs.com in 2007, and making it onto the "Long List" as a James Beard nominee for "Best Chef, Southeast" for the last two years (2008 & 2009). A constant student, Hector has done stages with chefs Jose Andres, Wylie Dufresne and Andoni L. Aduriz.
His goal is to bring to light Latin American products, culture and cuisine. He is currently working on a project on hot peppers, and their new and different culinary uses like "taming the heat." His favorite simple summer recipe is Charcoal Grilled Skirtsteak with a Vegetable Ceviche (celery, radishes, tomatoes and whatever else is available from local farmers).
Ad blocker interference detected!
Wikia is a free-to-use site that makes money from advertising. We have a modified experience for viewers using ad blockers

Wikia is not accessible if you've made further modifications. Remove the custom ad blocker rule(s) and the page will load as expected.