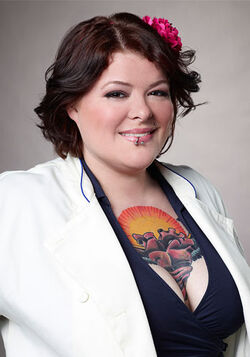 Jesse Sandlin is a contestant from Top Chef Season 6.
A Baltimore native, Jesse has spent 14 years working in professional kitchens from Maryland to Australia. She initially developed her passion for food while working for Paragary's Restaurant Group in California under chefs Andrew Tescher and Kurt Spataro. Since her return to Baltimore, Jesse has been an integral leader in several top kitchens in the city. She is currently Executive Chef at Abacrombie Fine Foods. Her unique cuisine highlights local and seasonal ingredients while bringing an innovative twist to European flavors and techniques. Bacon, butter, duck fat, cumin and trash bags are the five items she keeps on hand at all times. Sandlin's favorite simple summer recipe is Julienned Summer Squash Tossed with Lemon, Heirloom Cherry Tomatoes, Basil, Salt, Cracked Black Pepper, and a Little Bit of Butter.
Ad blocker interference detected!
Wikia is a free-to-use site that makes money from advertising. We have a modified experience for viewers using ad blockers

Wikia is not accessible if you've made further modifications. Remove the custom ad blocker rule(s) and the page will load as expected.