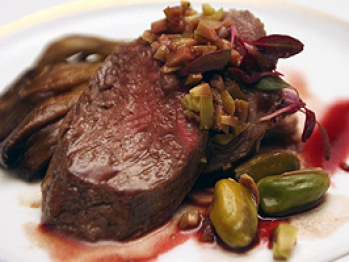 Description
Edit
Roasted Lamb Medallions with Maitake Mushrooms, Braised Pistachios and Blackberry, was the final recipe made by Top Chef Stephanie Izard in Season 4.

Course: Appetizer, Tapas/Small Plates
Prep Time:More Than Three Hours
Total Time:A Day Or More
Skill Level:Challenging
Cost:Splurge
Yield:8 servings
Ingredients
Edit
1 rack of lamb, removed from bones (reserve bones)
2 tablespoons yellow miso
Thyme to taste
1/2 onion, diced
3 cloves garlic
1/2 cup red wine
2 cups chicken stock
1 pint blackberries
1 cup white balsamic vinegar
1/4 cup sugar
1/2 cup shelled pistachios
Salt to taste
1/4 pound Maitake mushrooms
2 teaspoons olive oil
1 teaspoon butter
Pepper to taste
1/4 cup Manzanilla olives, minced
1 shallot, minced
Directions
Edit
Clean silver skin from lamb and rub lamb with miso and thyme. Let sit overnight.
Brown bones in the oven. Meanwhile in saucepot, brown onions and garlic. Deglaze with red wine and let reduce. Add in 1 1/2 cups chicken stock and 1/2 pint blackberries; let simmer. Add in browned bones and reduce to nappe. Season and strain.
Place remaining blackberries in non-reactive pot with white balsamic and sugar. Reduce to thicken and strain.
Place pistachios in remaining chicken stock; season with salt and simmer until nuts are softened.
Break maitakes into bite sized chunks. When time to serve, sauté mushrooms in one teaspoons olive oil and butter with salt and pepper.
Wipe miso off of lamb, season and brown all sides. Place in oven for a few minutes then let rest. Mix together olives, shallot and remaining olive oil.
This recipe comes from Bravo's official website.