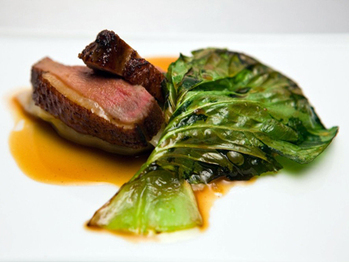 Description
Edit
Roasted Duck Breast with Duck Dumpling, Caramelized Bok Choy & Coriander Sauce was a final recipe by Kevin Sbraga on Season 7 of Top Chef.
Prep Time: Half day
Yield: 2 servings
Skill level: Moderate
Ingredients
Edit
4 Peking duck
200 ml soy sauce
3 bunches of cilantro
1 head of garlic
4 bunches of scallions
2 ginger knobs
10 oranges
1 pack of dumpling skins
4 heads of baby bok choy
250 grams sugar
100 coriander seeds
200 grams honey
Directions
Edit
1. In a blender purée cilantro, scallions, ginger, soy, and garlic into a paste
2. Marinate each duck breast in 2 tablespoons of puree and 2 each orange juice
3. Cook the breasts sous vide at 58C for 2 hours
4. Grind the leg meat on a medium die
5. Mix the ground leg meat with 8 tablespoons of marinate then fill dumplings skins
6. Steam the dumplings right before serving
7. Dip bok choy leaves in water then sugar, sauté to order
8. Toast coriander seeds, then deglaze with honey and remaining orange juice
9. Add duck bones, then cover with water, simmer for 4 hours
10. Strain stock and reduce to sauce consistency, use this as a sauce for the dish
This recipe comes from Bravo's official website.