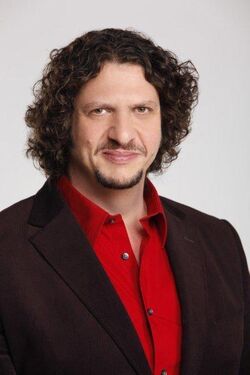 Jay Rayner (born 1966) is a British journalist, writer and broadcaster known for his role as a judge on the Bravo tv show Top Chef and it's spin-off Top Chef Masters.
Rayner joined The Observer newspaper after graduating from Leeds University in 1988 where he was editor of the student newspaper. He is currently the restaurant critic of The Observer, and has written for a wide range of British newspapers and magazines such as GQ, Esquire, Cosmopolitan, the New Statesman and Granta. Rayner's first novel, The Marble Kiss (1994) won the Author's Club First Novel Award and his second, Day of Atonement, (1998) won the Jewish Quarterly Prize for Fiction. He is one of the panel of critics who make up the titular "enemy" on the daytime cookery show Eating with the Enemy, and the food reporter on the BBC magazine programme The One Show.
Ad blocker interference detected!
Wikia is a free-to-use site that makes money from advertising. We have a modified experience for viewers using ad blockers

Wikia is not accessible if you've made further modifications. Remove the custom ad blocker rule(s) and the page will load as expected.