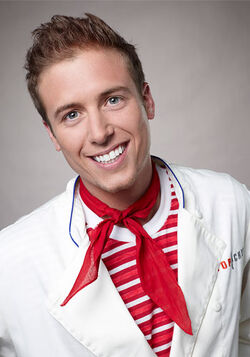 Mattin Noblia
, 29, is a contestant from
Top Chef
Season 6. A graduate of the C.A.P. de cuisine in southern France, the Basque Region, Mattin is the chef and owner of Iluna Basque, one of the most unique and prominent restaurants in San Francisco. Born in a small village in Basque Country, located in southwestern France, Mattin became enamored with cooking as a small boy while watching his mother cultivate "piment d' espelette" –Basque chile. Mattin has studied under noted chef Dominique Jolie, and incorporates a fusion of French and Spanish flavors into his cuisine. He admires French chefs such as Hubert Keller and Rolland Passot –but if Mattin could have his last meal with anyone, he would cook a candle-lit dinner for two for himself and Jessica Alba. Mattin's favorite simple summer recipe is Grilled Sardines and Fresh Tomato Sauce, or Boudin Noire with Caramelized Apples, or Stuffed Calamari in Ink Sauce over Rice.
Ad blocker interference detected!
Wikia is a free-to-use site that makes money from advertising. We have a modified experience for viewers using ad blockers

Wikia is not accessible if you've made further modifications. Remove the custom ad blocker rule(s) and the page will load as expected.