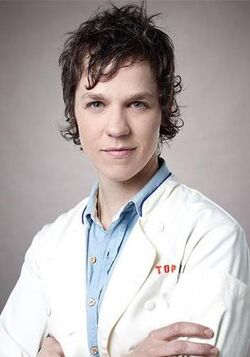 Ashley Merriman, a 32 year-old chef from Center Sandwich, New Hampshire, is a contestant from Top Chef Season 6. Merriman attended the Institute of Culinary Education NY after graduating from Hamilton College in New York. She has spent the majority of her professional career in New York City working at Butter and Seattle at Tilth, and now she is the chef at Branzino in Seattle, Wash. Merriman always has good quality extra virgin olive oil, champagne vinegar, lemons and thyme on hand in her kitchen. Her favorite simple summer recipe is Pan-Fried Soft Shell Crabs with Ramps and Morels.
Ad blocker interference detected!
Wikia is a free-to-use site that makes money from advertising. We have a modified experience for viewers using ad blockers

Wikia is not accessible if you've made further modifications. Remove the custom ad blocker rule(s) and the page will load as expected.