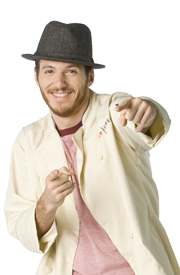 Spike Mendelsohn, born Evangelos Menselsohn, is a Floridan Chef. He competed on Top Chef season 4 and placed fifth overall in the competition, winning many quickfire challenges. He works as the chef de cuisine at Tribeca's Mai House restaraunt. Spike opened some new pizza places on Capitol Hill. He competed on Top Chef all-Stars season 8 and won two challenges before being eliminated 4th.
References
Edit
Ad blocker interference detected!
Wikia is a free-to-use site that makes money from advertising. We have a modified experience for viewers using ad blockers

Wikia is not accessible if you've made further modifications. Remove the custom ad blocker rule(s) and the page will load as expected.