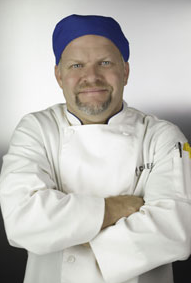 Dave Martin is an American chef from Long Beach, California who was a finalist in Top Chef (season 1), losing only to Tiffani Faison and Harold Dieterle. Prior to being eliminated in episode 11, Martin won three elimination challenges.
After graduating from the University of Redlands and earning a degree in English, Dave Martin went into the field of technology. When the technology market collapsed in 2000, Martin needed to find a new career. He attended culinary school at Le Cordon Bleu in Pasadena and was successful. He created his own catering company named As You Wish and traveled east to Manhattan to explore wine and south to explore BBQ.
Ad blocker interference detected!
Wikia is a free-to-use site that makes money from advertising. We have a modified experience for viewers using ad blockers

Wikia is not accessible if you've made further modifications. Remove the custom ad blocker rule(s) and the page will load as expected.