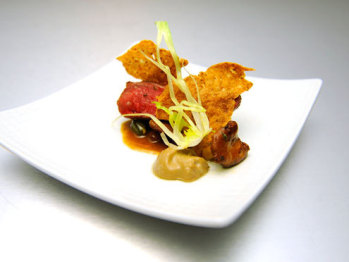 Description
Edit
Fennel-Scented Squab Breast, Pistachio Cassoulet and Textures of Mushrooms, was the final recipe by Michael Voltaggio in Season 6 of Top Chef.
Total Time: Half day
Yield: 2 servings
Skill level: Challenging
Ingredients
Edit
For the Squab:
Edit
2 each squab
1 teaspoon fennel pollen
1 tablespoon butter
Salt
For the Pistachio:
Edit
1 cup Sicilian pistachios
1 pound chicken stock
6 ounces bacon
1 onion
2 cloves
1 bay leaf
Mushroom Texture #1 - Mushroom gelee:
Edit
1 cup chanterelle mushrooms
1 cup heavy cream
1 tablespoon olive oil
1 shallot sliced thin
4g agar
4 sheets gelatin
For Mushroom Texture? #2 - Mushroom Cracker:
Edit
1 Piece Michael Voltaggio's Mushroom Puff (sorry, recipe is top secret)
For Mushroom Texture #3 - Sautéed Mushrooms:
Edit
Directions
Edit
For the Squab:
Remove breast from carcuss. Make a basic squab jus from the bones. Pick the leg meat from the sauce and reserve. Strain the sauce. Season and Vacuum pack the breast with the fennel pollen and butter. Using a hypodermic probe attached to a thermal couple, cook at 65*c until internal temperature of 54*c. Place the bag with the breast in an ice bath to stop the cooking.
For the Pistachio:
Split the onion in half. Reserve 1 half for another use. Stud the onion with the bay leaf and cloves. Place all ingredients in a small sauce pot. Simmer until pistachios are as tender as soft beans. Strain and place into squab jus. Add reserved leg meat. Season and reserve for service in a small pot.
For Mushroom Texture #1 - Mushroom gelee:
In a small sauce pot, add the oil. Add shallots and sweat. Turn heat up and add mushrooms. Cook until roasted and soft. Add the cream. Simmer until mushrooms are tender. Blend all contents until smooth. Season with salt. Add agar. Blend again. Put back in a pot and bring to boil. Place gelatin leaves in ice water until soft. Squeeze water from gelatin. Place the gelatin in the blender. Add the boiling mushroom agar mix. Blend again on low speed. Pour into mushroom shaped molds. Place in the fridge until set.
For Mushroom Texture #2- Mushroom Cracker:
Take the mushroom cracker and deep fry at 375*F until it puffs like a pork rind.
For Mushroom Texture #3- Sautéed Mushrooms:
Just sauté your favorite mushrooms slowly in butter with thyme, shallots, season with salt.
To finish:
Remove squab breast from bag. Sear in oil until skin is crisp. Allow to rest for 5 minutes until serving. Place some of the mushroom gelee on the plate. Warm the plate with the gelee in the oven. Spoon a pile of pistachio mix in the middle of the plate. Slice the squab in half. Place 1 half on the plate. Garnish with Michael's mushroom cracker and some baby fennel salad.
This recipe comes from Bravo's official website.