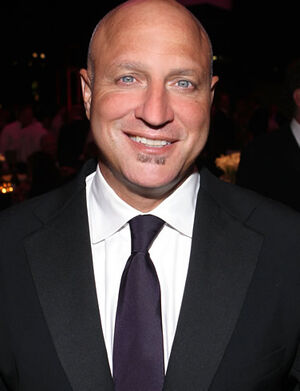 Thomas Patrick "Tom" Colicchio (b. August 15, 1962 in Elizabeth, New Jersey) is an American celebrity chef best known for his role as head judge on the Bravo tv series Top Chef.
Colicchio co-founded the Gramercy Tavern in New York City, where he formerly served as co-owner and executive chef. Gramercy Tavern opened in 1994 and was voted Most Popular Restaurant in New York City by the Zagat Survey in 2003 and 2005. Colicchio sold his interest in 2006 and is no longer affiliated with the restaurant. Colicchio is also the founder of Craft restaurants. Colicchio is the recipient of five James Beard Foundation Medals for cooking accomplishments, and has been the head judge on every season of the Bravo reality TV show Top Chef. Colicchio served as the consulting producer on Bravo's "Top Chef" spin-off series entitled "Top Chef Masters, which aired June 10, 2009. He has also been a featured chef on Great Chefs Television.
Personal Life
Edit
Colicchio is Italian-American on both parents' sides. He is married to filmmaker Lori Silverbush, and has two sons, Dante (1993) from a previous relationship and Luka Bodhi (2009).
Restaurants
Edit
New York City

Craft

Craftbar

Colicchio & Sons (formerly Craftsteak)

'wichcraft

Ledyard, Connecticut

Los Angeles

Las Vegas, Nevada

Kiawah Island, South Carolina

Dallas

San Francisco

Atlanta

Think Like a Chef

Craft of Cooking: Notes and Recipes from a Restaurant Kitchen

'wichcraft: Craft a sandwich into a meal--and a meal into a sandwich

Top Chef The Cookbook