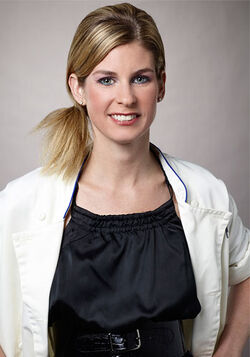 Jennifer Carroll, 33, is from Top Chef Season 6. Carroll started as a Law major at Catholic University in Washington, D.C., but the kitchen wooed her. She went on to culinary school at The Restaurant School at Walnut Hill College, Philadelphia, and quickly became a sous chef at both Julia and Café Kati in San Francisco. After returning to her hometown to work in the kitchens of Sonoma and Arroyo Grill, popular eateries in Philadelphia, she then went on to become sous chef at Eric Ripert's revered Le Bernardin in Manhattan. She was recently selected by Chef Ripert to lead his kitchen at the Ritz-Carlton in Philadelphia as Chef de Cuisine of 10 Arts. And she is sure to keep fine sea salt, espellate citron vinegar, black peppercorns, high fat unsalted butter and setia extra virgin olive oil on her at all times. Carroll's favorite simple summer recipe is Compressed Watermelon, Chesapeake Bay Jumbo Lump Crab, Fennel Pollen and Wild Boar Prosciutto Chips.
She also joined as an all-star of Season 8 of Top Chef. She was eliminated on the second episode.
Ad blocker interference detected!
Wikia is a free-to-use site that makes money from advertising. We have a modified experience for viewers using ad blockers

Wikia is not accessible if you've made further modifications. Remove the custom ad blocker rule(s) and the page will load as expected.