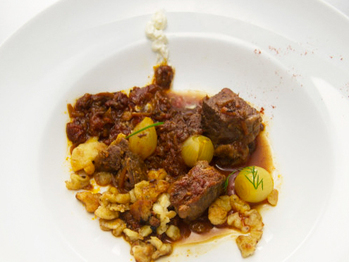 Beef Goulash, Spaetzel with Sour Cream and Apple Strudel with Tarragon was the main dish made by Richard Blais to win the All-Stars Season of Top Chef.
Total Time: Under 4 hours
Yield: 2
Skill level: moderate
Ingredients
Edit
Beef Goulash
Edit
12 small blocks Beef Short rib
1/4 cup Hungarian Paprika
1 small can whole peeled tomato
2 cups chicken stock
2 tablespoons Caraway
Salt and pepper, to taste
Flour, to dust
1 tablespoon Balsamic Vinegar
2 onions, sliced
1 small carrot, sliced
Oil, for frying
12 sheets Phyllo dough
1/2 cup browned butter
6 Granny Smith apples, sliced thick
1 tablespoon Ras el Hanout
3 tablespoons brown sugar
1/2 cup chopped walnuts
1/4 cup raisins
1/2 cup brandy
Granulated sugar, to dust
Directions
Edit
Beef Goulash
Edit
Season (with salt and pepper) and flour beef. Fry in hot oil until browned. Reserve.
In a pressure cooker, brown onions and carrots until golden.
Add paprika and caraway and toast.
Add tomato and reduce a bit.
Add stock and beef and seal pressure cooker. Cook under pressure for 40 minutes.
Release pressure, and remove beef.
Reduce cuisson a touch. Finish with balsamic vinegar.
Served cooking liquid over beef.
Peel and slice apples while warming a sauté pan with 1/4 cup clarified butter.
Toss raw apples in brown sugar and sear in pan with hot butter.
Toss with the walnuts, ras el hanout and raisins until golden brown and deglaze clamber with the brandy.
Cook off the harshness of the brandy and let it cool in the fridge in a separate container.
Lather the phyllo with the remaining butter, alternating sides so as to not make a mess.
When the apple mixture is cool roll in the phyllo dough tightly.
Sprinkle a touch of granulated sugar on the dough and brush with remaining butter.
Cook strudel at 325-350 degrees until very darkly browned and serve immediately.
This recipe comes from Bravo's official Top Chef site.