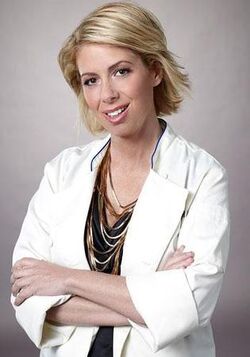 Eve Aronoff is a contestant from Top Chef Season 6. Aronoff, 40, attended Le Cordon Bleu in Paris, France, and is the chef/owner of Eve, a small restaurant in Ann Arbor, Michigan. She has a distinctive cooking style based on French Philosophy with influences including North African, West African Cuban and Vietnamese. Aronoff style expresses her love for bold, complex and exotic flavors paired with cool, clean contrasts and textures. Author of her own cookbook, Eve: Contemporary Cuisine, Methode Traditionelle, she recently received the honor of being invited to travel to The James Beard Foundation in New York to create a multi-course dinner to showcase her style of cooking. She also served as a delegate to Terra Madre, the bi-annual international slow food meeting in Torino, Italy on behalf of the Slow Food Movement, which was founded to help facilitate working closely with local farmers and artisans. Aronoff's favorite simple summer dish is Salad of Ripe Tomatoes, Avocado, Red Onion and Fresh Lime – with Mozzarella di Bufala and some good bread.
Ad blocker interference detected!
Wikia is a free-to-use site that makes money from advertising. We have a modified experience for viewers using ad blockers

Wikia is not accessible if you've made further modifications. Remove the custom ad blocker rule(s) and the page will load as expected.